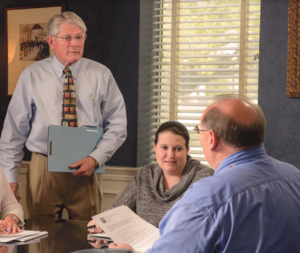 ​
Life is complex, but your mortgage doesn't have to be. Mutual Savings & Loan Association makes buying a home stress free. We walk you through the entire process, so you feel comfortable with the loan you choose.
We've even simplified the payment process, drafting funds from any account you specify and offering monthly and biweekly payments. With a biweekly payment plan, you pay half of your normal monthly payment every other week, resulting in one extra full payment a year—saving you money on interest and shortening the term of your loan.
Best yet, Mutual is your hometown servicer of mortgage loans. You can rest assured, when you choose Mutual, you're not only choosing a safe and secure option for your loans, but also a local bank with local underwriting. We have been financing homes here for over 130 years. We not only know the neighborhoods, we live in them.
Permanent Home Mortgage Loans
From 5- to 30-year terms, Mutual offers flexible home mortgage options with competitively low rates and no prepayment penalties. Call us today to see the plan that works best for you.
Construction/Permanent Mortgage Loans
Need a construction loan for major renovations or to build your next home? Call to see how Mutual's one-time closing for construction/permanent loans saves you money. Available for both regular and jumbo loans, you eliminate costly duplication of closing costs. Plus, once construction is complete, all that is needed is a final appraisal rather than a new full appraisal, resulting in further cost savings.
Mutual customers can lock in their permanent mortgage interest rate at the time of closing and take advantage of a 12-month construction period with interest-only payments made monthly on the amount of funds disbursed from the loan.
Lot Loans
Investing in an empty lot for future development? Mutual's residential lot loans cover up to 80% of the value and come with 5 year or 10 year fixed rate terms.
Investment Property Loans
Looking to secure a loan for an investment property? Mutual offers 10 year, 15 year and 20 year fixed rate investment property loans up to 70% of the value.
*The monthly payment amount listed is principal and interest only. The calculator shows the comparison options of 15 year mortgage and 30 year mortgage. If you need a different loan length,
Mutual Savings
can provide loans customized to meet your specific needs. Calculator payments and
savings
are approximations. For a more accurate estimate, please contact Mutual Savings.